Witness the Rise of a Hero- the Universe's Most POWERFUL Hero!
CAPTAIN MARVEL!
To celebrate the arrival of Captain Marvel on Blu-Ray TODAY, I need to tell you all about our fun Movie Night Kit from our friends at Disney and Marvel. Check out all the fun stuff that came in our kit!
After a fun, sunny Saturday, we decided to celebrate with our Captain Marvel Movie Night!  Our movie night kit came with everything from Ice Pops, games, a snuggly fleece blanket, an Agents of Shield Hat and a copy of the movie- it even came with popcorn! We love our movie night kit!
Living in New England, it's the perfect time of year for a Captain Marvel fleece throw at night, when the sun goes down and it dips below 60 degrees.  It really does get warmer in the summer, but right now, mother nature doesn't know what season it is.  It was 45 degrees 3 days ago and rainy. Needless to say, we love our fleece throws for watching movies and snuggling with the 2 and 4-legged family members!
My hubby is very excited about the Agents of Shield hat. We loved that series and are glad the next season is coming up.  Nick Fury is one of our favorite characters in the Marvel world!
My son, even though he's 16, loves the Secret Skrulls game and the Captain Marvel Photon Power Fx Glove.  I had to take it away from him.  He was chasing the dogs around with it. 🙂  Don't tell him I've been playing with it all afternoon.
Captain Marvel Secret Skrulls Game:
If your family loves game night, here's a great new game to add to your collection!
Captain Marvel: Secret Skrulls is a hidden identity game where players take on the roles of their favorite Marvel characters, including Captain Marvel herself, to defend Earth in an intergalactic war against shape-shifting Skrulls in disguise. Players must decide whom to trust, defend their alliance, and restore the planet's virtue. Based on the popular game mechanic of BANG!

About the Movie:
Set in the 1990s, "Captain Marvel" is an all-new adventure from a previously unseen period in the history of the Marvel Cinematic Universe that introduces the MCU's first stand-alone, female-franchise title character—Carol Danvers aka Captain Marvel. When we first meet Danvers, she already possesses her superhero powers, having left her earthly life behind and become a member of an intergalactic elite Kree military team called Starforce, led by their enigmatic commander, Yon-Rogg. But after Danvers has trained and worked with the Starforce team, and become a valued member­, she finds herself back on Earth with new questions about her past. While on Earth she quickly lands on the radar of Nick Fury, and they must work together against a formidable enemy in the form of the Skrulls—the notorious Marvel bad guys made even more dangerous by their shape-shifting abilities—and their leader, Talos, who is spearheading a Skrull invasion of Earth.
I can't tell you anymore- you have to see it for yourself! To read more about the special DVD features, check out my previous Captain Marvel post.
Are you ready for your own movie night? Grab some popcorn, make some Captain Marvel Cupcakes and have a blast.
The Hero: Captain Marvel:
Want to be just like Captain Marvel and sport the very same star symbol she proudly wears on her suit? Of course you do! Download the instructions & template by clicking the image below!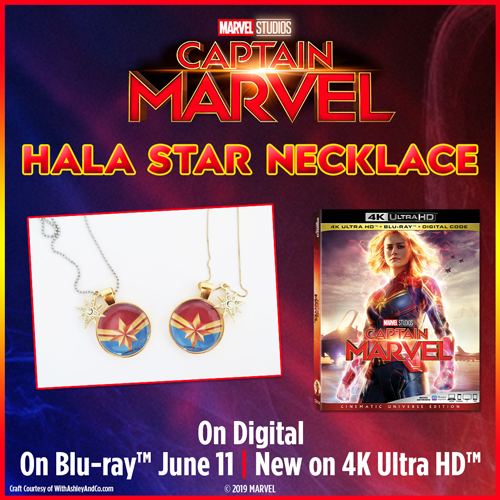 My favorite character: Goose!
We have 2 orange tabby cats so it wasn't a stretch to love Goose!  He is sweet and fun but also will surprise you with his abilities!  Check it out below- but don't if you haven't seen the movie yet… It's my favorite part!
Now that you've heard so much about Captain Marvel, I'm sure you want your very own Flerken, right? (Trust me, I do!) Well, you're in luck! Download this awesome activity and make your very own Goose puppet!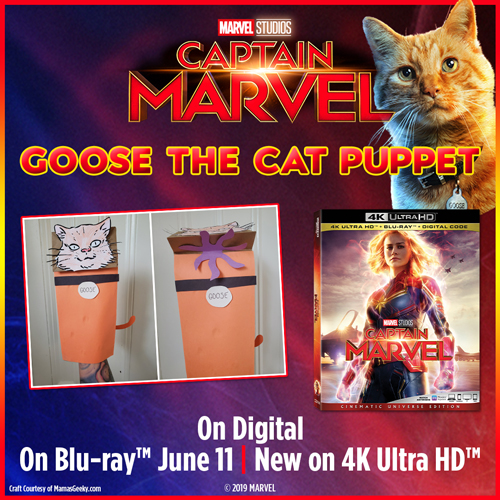 CAPTAIN MARVEL is On Digital! On Blu-ray™ TODAY -New on 4K Ultra HD™
Get your copy on Amazon today!
Be sure to follow Captain Marvel on Social Media!!
When are you having a Captain Marvel Movie Night?  What kind of snacks will you have? Let us know in the comments below.