Need some super cute Valentine's Day Cards your kids will love to pass out to friends?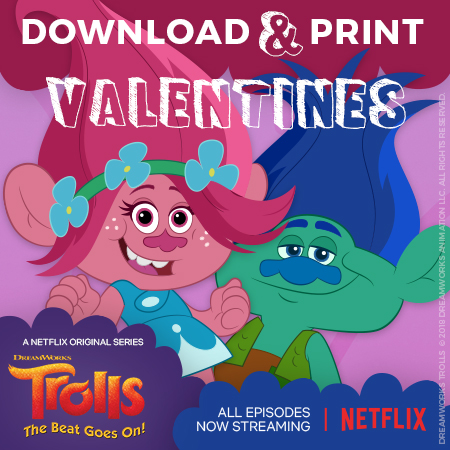 About DreamWorks TROLLS THE BEAT GOES ON:
Picking up where the cheerful, glitter-filled hit movie DreamWorks Trolls left off, the Netflix original series DreamWorks Trolls: The Beat Goes On!, brings back Poppy, Branch, King Peppy, Smidge and the rest of the film's beloved characters for more whimsical, musical adventures as they go about day-to-day life in Troll Village.
With original songs in each half-hour episode and immersive hand-drawn 2D animation, Trolls: The Beat Goes On! offers a unique musical and visual treat for all ages. The series features compositions by acclaimed songwriter and producer Alana Da Fonseca (the Pitch Perfect films, Alvin and the Chipmunks) as well as the voice talents of Amanda Leighton,Skylar Astin, Ron Funches, Gary Cole, David Koechner, and others.
Join Poppy, Branch and all of Troll Village as they keep the dance party raving in their fantastical forest home. Bursting with their signature positivity, irreverence and a whole lotta music, Trolls: The Beat Goes On! opens up the colorful world of Trolls for new adventures and a dance party around every corner!
Trolls: The Beat Goes On! comes from DreamWorks Animation Television. All six episodes of the animated series' first season will become available to Netflix users now!
Please follow and like us: