NuMe- inspiring young women to feel confident about who they are
Women with confidence are the most beautiful women in the world! I love that NuMe inspires confidence with their amazing products. Have you tried any of NuMe's Beauty products? Read about the Classic Wand below and take advantage of the 70% off sale!
About the 32mm Classic Wand:
NuMe's exclusive curling wand forms beautiful, romantic waves in half the time of other styling tools, with an added luxury, a gemstone tourmaline-infused ceramic coated barrel. Tourmaline and ceramic heat hair quickly and evenly, resulting in zero damage and a healthy shine. Negative ions are disbursed through the barrel, conditioning hair from the inside-out and creating manageability necessary for precision styling.
NuMe is recognized as one of the world's most innovative hair and beauty brands. Salon grade products range from hair straighteners and curling wands to styling sets and personal hair care items. As a result of its high regard within the beauty industry, NuMe has been featured in magazines such as Vogue and Allure and on television shows such as Access Hollywood, Good Morning America, and The Today Show.
Having revolutionized the hair industry with the clipless curling wand, NuMe has continued to pioneer its way in the beauty industry with innovative styling tools and products, making gorgeous hair a reality for women around the world.
My Thoughts:
I have long hair and it takes me FOREVER to curl my hair with my clip curling iron. I usually end up not curling it and going for the "I just washed my hair and went" look. Now that I have the NuMe 32 mm Curling wand, I can curl my hair in about 10 minutes! I love the big, natural curls the wand makes! The clip-less wand doesn't leave any unwanted crimp marks in my hair. The tourmaline ceramic coated barrel makes my hair shiny and soft!
The wand heats up to 410 degrees so be sure to use the heat-resistant glove that's included. This temperature doesn't harm my hair, it helps achieve big, beautiful curls in much less time!
The cord has a great swivel attached to the wand so it doesn't get tangled as you are wrapping your hair on the barrel. One of my pet peeves is tangled cords- I do a great job of getting them so tangled that there isn't any hope left for the poor thing!
If you are looking for the perfect styling tool for big, beautiful, shiny curls, be sure to check out NuMe's Curling wand. You can get it in a few colors and sizes! Be sure to use the promo code below!
Want to get 70% OFF ANY Curling Wand + Free Shipping? Go HERE and use Promo Code: ITSONLY70
Be sure to follow NuMe on Social Media:
Facebook – Twitter– Pinterest – Instagram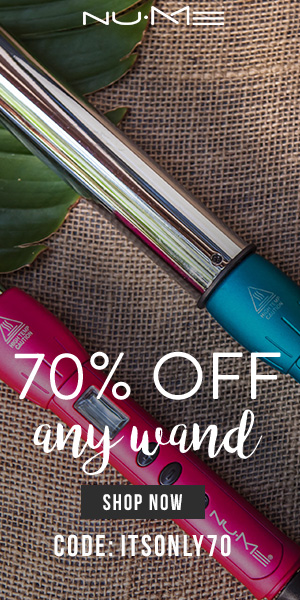 ---