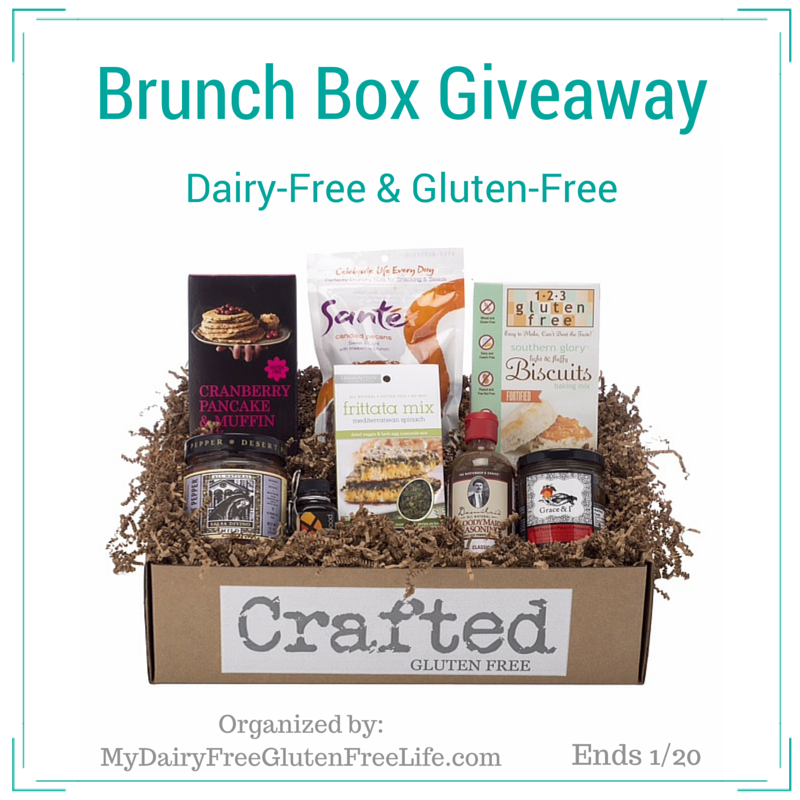 About Crafted Gluten Free
Crafted Gluten Free are curators of the most insanely delicious, gluten free products out there. They make living gluten-free easier. Crafted Gluten Free are foodies at heart, who care about eating healthy, delicious, and convenient foods—that also happen to be gluten free. They know how difficult and expensive it can be trying to figure out which gluten-free foods are great. So, they have done the leg work for you, ultimately selecting the most fabulous gourmet, small batch, award-winning, or artisanal products available on the market today.
Are you longing for great taste but don't want to sacrifice what is important to you? The Crafted Gluten Free Brunch Box has gone dairy free! Cranberry pancake mix, award winning syrup, flaky southern biscuit mix, peach preserves with ghost pepper, frittata seasoning, small batch salsa and more!
Mom Does Reviews has teamed up with My Dairy-Free Gluten-Free Life in this delicious Crafted Gluten Free Brunch Box Giveaway! After you enter the giveaway below, you may read My Dairy-Free Gluten-Free's full Crafted Gluten Free Product Review!
One lucky reader will win the newest product from Crafted Gluten Free, a Dairy-Free Gluten-Free Brunch Box! ~ $59.99 value
Sponsored by Crafted Gluten Free
The Brunch Box will include:
Bread's by Anna Cranberry Pancake & Muffin Mix
Sante Roasted Pecans
Tonewood Maple Syrup
1-2-3 Gluten Free Southern Biscuit Mix
Urban Accents Frittata Mix
Desert Pepper Mild Salsa
Grace & I Ghost Pepper Peach Preserves
Dimitri's Bloody Mary Mix
The giveaway is open to US residents, ages 18+. It ends on 1/20/16 at 11:59 pm ET.