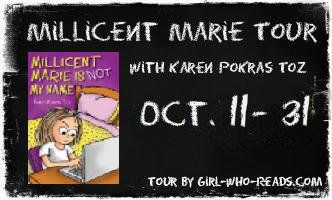 Is everyone loving Millicent?  I had to find out more about her!  Here is my interview with her.  
After you read up on her, be sure to enter to win some swag!
PGM: Hi Millicent Marie, tell us a little about yourself.
MM:Hi. Uh – do you think you could call me Millie? I'm not a big fan of Millicent Marie.
PGM: Really, Why?
MM: It just sounds so formal and long and old. I mean . . . I'm only twelve. I should have a cute, fun name, like Amanda. I really like that name a lot, don't you? In fact, I used to pretend my name was Amanda.
PGM: You did? Tell me more about that, Amanda.
MM: No – I'm not Amanda anymore. Now you can just call me Millie. But before sixth grade started, my parents gave me my own laptop. Pretty cool, huh? Anyway, I decided to start a diary on it, and since I don't like my name, I signed all my entries as Amanda. That way when my nosey ten-year-old brother was poking around my stuff, he wouldn't know it was actually me writing in the diary.
PGM: Ah, that's pretty smart. So did it work?
MM: Not really. Doogle – that's my brother – well he sort of figured it out. He decided it would be funny if he published my diary on the Internet as a blog. Everyone at school saw it. Everyone!
PGM: Whoa! That's awful! What did you do?
MM: Well of course I was steaming mad, and I was going to delete it, but all these people started emailing me, telling me they liked the blog. Then they wanted me to help them with their problems. Can you believe that? They wanted my advice. Nobody's ever wanted my advice before. In fact, I'm pretty sure none of the kids even cared that I existed before the blog.
PGM: So that's pretty cool then. I'll bet it was fun being the popular kid in school, right?
MM: Sort of. You see, no one actually knew it was me since I signed my name Amanda. In a way it was cool, because I could write about anyone and anything I wanted and not get in trouble. But after awhile, things kind of got out control, and I started to feel bad.
PGM: Yes, I could see how that could happen. What did you do?
MM: Well, first I . . . actually, it's kind of a long story, but my creator, Karen Pokras Toz helped me put it all down on paper, in my book, Millicent Marie Is Not My Name. I sure hope you'll give it a read.
Who wants to win Some SWAG and $20 Amazon Gift Card?
Grand Prize: swag pack plus tote bag, mug, and Amazon Gift Card