In celebration of the recent DVD release of The SpongeBob Musical: Live on Stage! we're excited to share our fun craft and recipes!

"…it is the perfect show to watch right now. It's about optimism in the face of possible destruction. It's about finding comfort in the people, or sea creatures, that you love." – Broadway.com
But first, learn all about the Movie:
SpongeBob SquarePants and all of Bikini Bottom bring a party full of heart and humor in The SpongeBob Musical: Live on Stage!, arrived on DVD November 3, 2020 from Paramount Home Entertainment and Nickelodeon Home Entertainment. Get it on Amazon!

SpongeBob and all of Bikini Bottom face catastrophe – until a most unexpected hero rises to take center stage to prove that the power of optimism really can save the world. This one-of-a-kind musical event boasts the full, extended-length broadcast of the hit Broadway musical, plus an exclusive sing-along version only available on this DVD! Also featuring a special guest appearance by voice actor Tom Kenny as 'Patchy the Pirate,' this is one under-the-sea spectacular that you don't want to miss.

The SpongeBob Musical: Live On Stage! cast includes Ethan Slater as SpongeBob SquarePants, Gavin Lee as Squidward Q. Tentacles, Danny Skinner as Patrick Star, Brian Ray Norris as Eugene Krabs, Wesley Taylor as Sheldon Plankton, Christina Sajous as Sandy Cheeks and Tom Kenny as 'Patchy the Pirate.' The ensemble includes Kyle Hamilton, Katie Lee Hill, Curtis Holbrook, Jesse JP Johnson, L'ogan J'ones, Jai'len Josey, Kelvin Moon Loh, Lauralyn McClelland, Vasthy Mompoint, Bryonha Marie Parham, Oneika Phillips, Jon Rua, JC Schuster, Abby C. Smith, Robert Taylor Jr., and Allan Washington.
Volcano Cakes:
Dive deep into a sea of sweetness with SpongeBob's delicious undersea Volcano Cakes!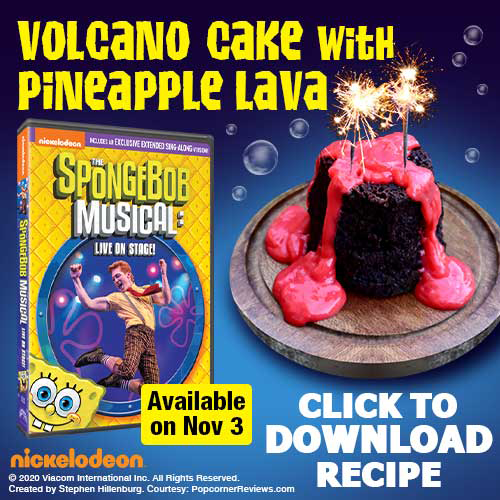 Jellyfish Umbrella Craft:
Join SpongeBob's musical by making your very own Jellyfish Umbrella!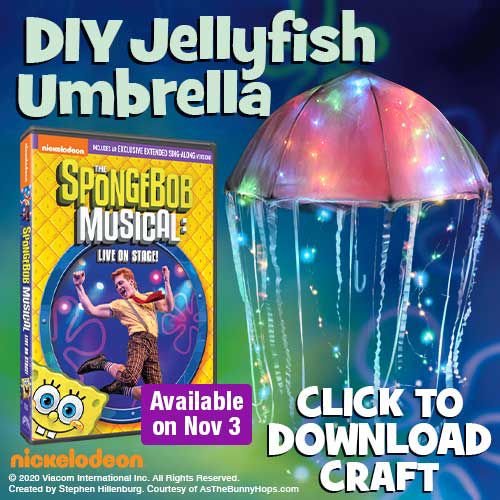 Plankton TP Roll Craft:
Mr. Krabs's arch-nemesis Plankton has returned, cleverly disguised as a paper roll craft!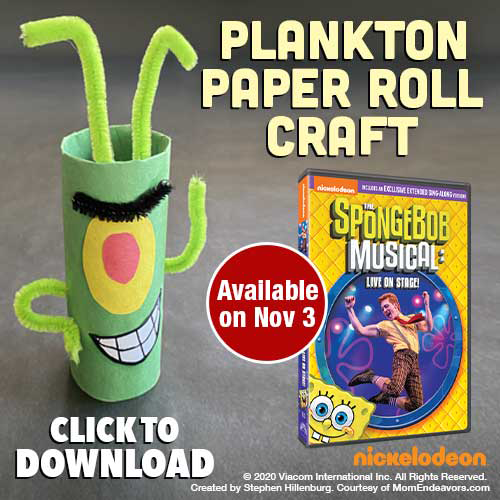 Which one is your favorite? Let us know in the comments below!
COMING SOON- SpongeBob Rice Kristy Treats!