Watch Avengers: Endgame AGAIN on DVD!
Avengers: Endgame is available on DVD/Blu-Ray on Tuesday, August 13th. We have seen it in theaters 3 times and already watched it at home on-demand twice. There are so many reasons to watch Avengers: Endgame over and over again, but here are our TOP FOUR reasons why you must watch it more than once.
1. The Initial Excitement
MCU has been building this story line for 11 years. Marvel has taken you across the galaxy and back again in more ways than one and this is the ultimate closure that brings all those years to it's final moment. You feel raw emotion as you watch your favorite characters come together again to defeat the inevitable Thanos. Does your favorite character come back? Do some of your loyal favorites die? Feeling that emotion again and again never gets old as you watch it more than one time.
2. Did That Just Happen? I HAVE to see it AGAIN!
Okay, now it has been a moment or two. You have taken it all in, your emotions are under control, right? WRONG! You have to watch it a second time to answer those questions in your mind "Did that really happen?" "Can I ride the roller coaster again?" YES YOU CAN! You have to watch it a second time to get over the initial excitement from waiting 11 years and watching it the first time. You know you missed something and have to see what that something(s) were.
3. Finding Hidden Gems
MCU movies are notoriously known for their Easter Eggs and hidden gems that lead to the next movie, but what do you expect when this is the Endgame? You still find them! From a running scene with Hope Van Dyne and Howard the Duck to Hulk eating his famed Hulka Hulka Burning Fudge ice cream from Ben & Jerry's. The second, third and fourth (or more) times bring new things to light, forgotten moments revisited and unspoken questions answered.
4. You Love Marvel
You are that true Marvel FANATIC, you know you are. Watching it with those who have never seen it before, or those who are as emotionally involved as you is FANTASTIC. Whatever the situation, you know you love Marvel so much that the characters have become like family to you. You just can't let them go, you have to relive it again, and again, just like you did with all of the MCU movies from Ironman to Endgame.
If you haven't seen Avengers: Endgame, Be sure to watch the trailer:
Why do YOU want to see Avengers Endgame more than once?  Let us know in the comments below!
Get your copy on DVD HERE!
Make some Captain America-Inspired DIY Activites!
Become the leader you were born to be with these two Captain America-Inspired DIY activities! Create a DIY Flying Disc while having a refreshing Summer Sip! Download them at http://bit.ly/AvengersEndgameActivitiesCaptainAmerica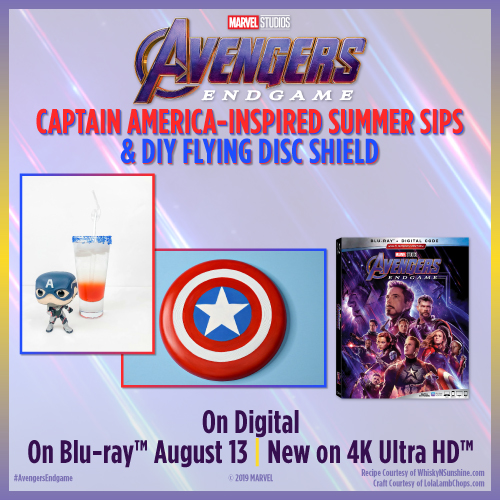 Don't forget these Hawkeye-Inspired DIY activates!
Set your aim on these two awesome Hawkeye-Inspired DIY activities! Create some DIY Bullseye Pencil Arrows while munching on a Target Practice Pizza Dip! Download them at http://bit.ly/AvengersEndgameActivitiesHawkeye