I am working with  Smile Health Dental Plans – all opinions are 100% my own.
We have a great giveaway sponsored by Smile Health Dental Plans, but first, some important info about your health!
Did you Know?
Everyone knows it's important to go to the dentist to have healthy teeth, gums and a winning smile, but did you know that the health of your mouth, affects every part of your body?
It's true. It's not only what we put in our mouth that matters but how we take care of it, that leads to a healthy heart, mind and body. Good oral health can limit your exposure to heart disease, stroke and memory loss. This is why it's so important to start taking care of your oral health early, a healthy mouth equals a healthy you!
The people at Smile Health Dental Plans know this and they have come up with one of the most simple and affordable Dental plans on the market today!
Smile Health Dental Plans would like to know how you take care of your oral health and what you do to ensure a healthy smile!
Smile Health Dental Plans are an affordable alternative to traditional dental insurance. Members pay an annual fee to receive discounts all year long. And with Smile Health Dental Plans there are no hidden costs, just savings of 20% or more on many preventative, restorative and cosmetic dental treatments. You get immediate benefits, no health restrictions, no waiting periods, no claims, no maximums, and more!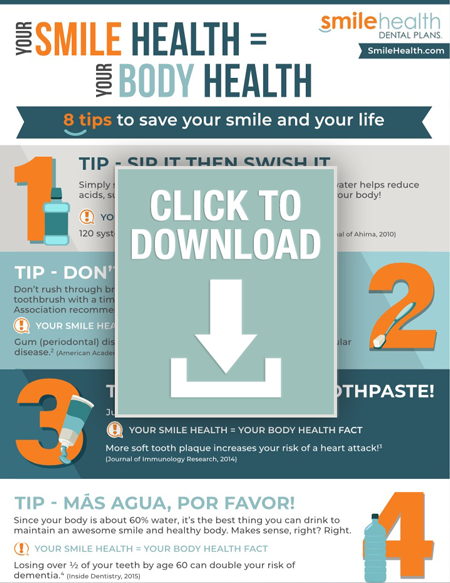 Don't miss the "Your Smile Health = Your Body Health" pamphet – download it by clicking above!
How do I ensure a healthy smile?
When I was little, my family has always visited the dentist twice a year, every year.  The more you go, the healthier your teeth are. My son has been going to the dentist since he was actually in my belly (I had a toothache when I was pregnant).  He has loved going to the dentist ever since.  Of course, they always treat the kids with fun crafts, activities, stickers and more.  He used to look forward to seeing his "picture" on the wall each time he went. That's one of my tips for parents with little ones.  Start them young and make it fun.  Even before he had his teeth checked, he would go with us to our appointments.  It was always a positive experience for him.
One thing I learned from Smile Health is  "losing over 1/2 your teeth by age 60 can double your risk of dementia."  Lots of great reasons there to take care of your teeth!
ENTER TO WIN!
We have an amazing Smile Health Dental Plans "Your Smile Health = Your Body Health" Care Kit to giveaway to a lucky reader that includes:
1 – Oral B Vitality Electric Toothbrush
1 – Crest Pro-Health Toothpaste Travel Size
1 – Oral B Glide Floss
1 – Crest Pro-Health Multi-Protection Oral Rinse
1 – Smile Health = Body Health PDF pamphlet
Each household is only eligible to win "Your Smile Health = Your Body Health" Care Kit via blog reviews and giveaways.
Only one entrant per mailing address per giveaway. If you have won the same prize on another blog, you will not be eligible to win it again. Winner is subject to eligibility verification.
The giveaway is open to US only, 18+. No PO Boxes please.
The giveaway ends 6/1 at 1159p est
Be sure to come back daily for more chances to win!
Please follow and like us: