Everyone's favorite super family is BACK!!
About the Movie:
Holly Hunter and Craig T. Nelson return as the voices of Helen and Bob Parr, who still struggle to juggle their duties as parents and Supers. Sarah Vowell once again provides the voice of the teen-queen of sarcasm Violet, while Huck Milner joins the cast as the voice of 10-year-old Dash, and Samuel L. Jackson reprises his role as the voice of Lucius Best – aka Frozone. "Incredibles 2" also features the voices of Brad Bird as fashion visionary Edna "E" Mode, Bob Odenkirk as savvy businessman and Super fan Winston Deavor, Catherine Keener as tech pro Evelyn Deavor, Jonathan Banks as Rick Dicker, Sophia Bush as up-and-coming hero Voyd, and Isabella Rossellini as an influential ambassador and advocate for Supers.
4 Reasons we loved Incredibles 2:
Teamwork makes the Dream Work: Even Super Heroes need to work as a team to achieve the impossible and incredible.  In all aspects of life, things really do work better if you work together. Only as a team, will each person's different gifts come together to accomplish an seemingly impossible goal.  We learned this in the first Incredibles and it was repeated over again in Incredibles 2!  In fact Violet says " I like fighting crime as a family."
Being Different is good! Incredibles 2 suggests that the ways you are different from everyone else are what makes you special.  Supers are different and to the Parr family, that makes them special. Violet learns that her powers make her special, not a freak.  Being a teenager is difficult enough- being a "freak" teenager is even worse.
Shows us non-traditional roles and how to balance work and family:  Incredibles 2 is all about the sacrifices parents make for their children.  Elastagirl may be living her dream, but she is giving up being with her children everyday.  On the other hand, Bob is adjusting to life as a stay-at-home dad, including learning "new math."  Incredibles 2 is about the challenges facing men who are accustomed to being breadwinners when they're tasked with caregiving instead.  It takes Bob awhile to keep up with Jack-Jack, but he manages without anyone getting hurt!
Edna says: "Done properly, parenting is a heroic act… done properly."
It's just funny!  You have to watch the scene with Jack-Jack and the raccoon.  We couldn't stop laughing!  He does all this while Dad isn't watching, which makes it even funnier!  Just the way he uses his powers, looks at Dad all serious and then cracks up laughing gets me every time! And, don't forget the scene where Edna thinks she's making baby sounds.  To see all the funny moments, you have to watch it for yourself!
Love Printables?  Be sure to check out all the printables on my previous post HERE.
Stay connected with Disney•Pixar's INCREDIBLES 2!
Don't miss this delicious Bao cake pop recipe!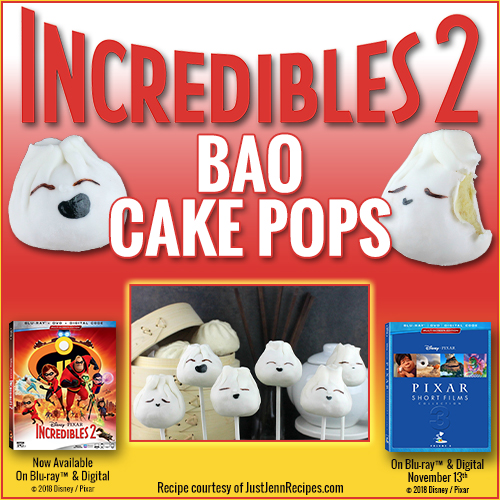 Here are some brand new fun paper foldables your kids will love!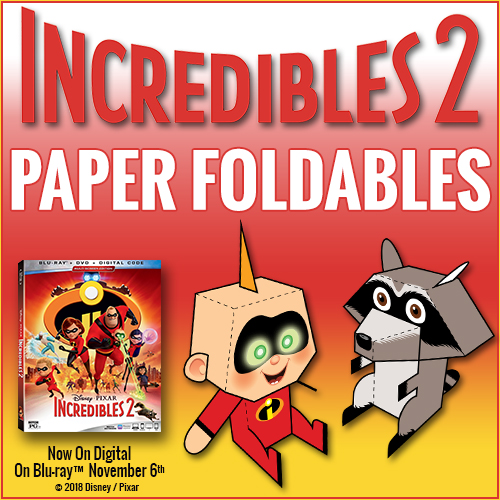 Please follow and like us: