Every time Rihanna uploads a picture to Instagram, we rush to dissect what she's wearing. She rarely disappoints – currently preferring to mix sports luxe and 90s throwback items into a distinct and sexy look that no other celebrity can touch. We'll break down how you can get this particular look…
Black Leather Pencil Mini
One of the key pieces in this look is the leather pencil skirt. You can pick up a beautifully tailored number from Peridot London. The Peridot number comes with a zip at the side – so you can convert your skirt into a trendy thigh split number of which Rihanna would surely approve (her self-designed collection for River Island featured many thigh split skirts).
Radarte T-Shirt
This tongue-in-cheek tribute to high fashion label Rodarte is produced by the brand themselves. It's quite hard to pin down online, but check out ASOS and Opening Ceremony to try and nab one for yourself. It retails at around $95-$100, so this casual piece doesn't come cheap!
Motel Striped Denim and Leather Jacket
The green-black-and-white striped leather jacket Rihanna is wearing in her Instagram pic is ACNE's 'Valentine' style – which will set you back roughly £1,000 off the rack. We're guessing that most people don't have a spare grand laying around to spend on a jacket, so we recommend you go for Motel's striped denim body jacket (a reasonable £40).  It's just as cool and it won't break the bank.
Essi White Stilettos from Aldo
These 'Essi' pair from Aldo perfectly capture the look of early 90s cool that Rihanna is channelling. White stilettos are once again becoming stylish – albeit when worn with a slightly ironic wink. The silver toe caps are glamorous and unique.
Rihanna for River Island Tattoo Pendant Trucker Cap
You can't go wrong with a black trucker cap designed by Rihanna herself. Although you could go with any plain black cap, this leather-and-gold detailed version adds a little authentic touch for those in the know. Consider it a kind of siren call to the rest of the Rihanna Navy.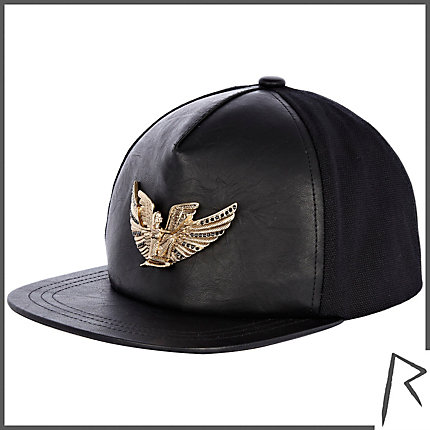 Nasty Gal 'Gloss' Shades
The classic white cat eye shades that Rihanna is wearing will never go out of style – so don't hesitate to pick up a pair from online boutique Nasty Gal.
When piecing together this look, you can choose from the best of high street and designer fashion online.  We like to invest money in the pieces that we know we will wear again and again, season after season. However, you can make savings on trendy items that put the finishing touches to the overall look. Let us know if you're going to try this exciting Rihanna look!
Neerhal Bhatt is a freelance content writer from London. Her passions include art, fashion photography and mango sorbet.