This is a Sponsored post written by me on behalf of Avocados from Mexico for SocialSpark. All opinions are 100% mine.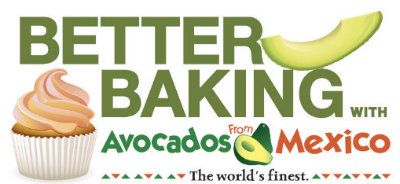 The Holiday are here and it's time to win and time to get baking!  The winning part is easy, just enter Avocados from Mexico's Better Baking Sweepstakes from now until 12/31/12.  Do you do your baking with family or by yourself?  I do my baking with my son because my family is all at least 45 minutes away.  We are always looking for healthier ways to bake.  Did you know that Avocados can actually make your baking healthier and still taste delicious?  You just substitute pureed avocados for butter or oil.  I found this great recipe with avocados
It's called Bacon Cheddar Bread.
Ingredients: 
1 cup water 

2 tablespoons pureed avocado 

1/2 cup – 1 cup cooked & crumbled bacon (+ 1 Tablespoon of drippings) 

1/2 cup sharp cheddar 

3 cups bread flour 

2 tablespoons sugar 

1 1/2 teaspoons salt 

1 teaspoon garlic powder 

2 1/2 teaspoons active dry yeast
Preparation:
I used my breadmaker and added the ingredients in the order listed and set it for a 2 pound loaf. It was so easy and came out absolutely delicious. You could probably substitute beer for the water and make beer bacon cheese bread…I might have to try that next time! 
http://goo.gl/bkTVY
My son loves bacon and cheese, so this wa a quick favorite!
The most exciting part about cooking with Avocados is the great Sweepstakes going on here 
Avocados from Mexico's Better Baking Sweepstakes
.  It's super easy.  Like their Facebook page, and go the the sweepstakes icon.  After you fill in only 8 fields, you can be entered to win $2,500!  or one of 500 prizes!  It's so easy and you can enter every day!  I know i will be, who doesn't want to win $2,500??
Be sure to Enter the sweepstakes EVERY DAY from now until 12/31/12!  You can't win if you don't enter!
Be sure to check out some great recipes made with Avocados and enter the win every day!  Bake and win- who knew Avocados could be so much fun!