FATHER'S DAY GIFT BOX GIVEAWAY!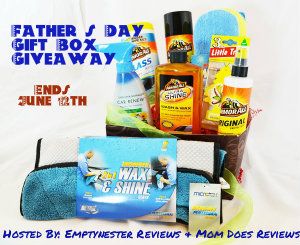 Emptynester Reviews and Mom Does Reviews
are Super excited to be Hosting this event for you!
We are being joined by the following helpful, yet amazing
bloggers and sponsors!
We purchased this Gift Box from a new Gift site called WOW Gift Boxes!
Here is their Mission statement:
We found it very inspiring and wanted to help support them, by purchasing this Gift box to giveaway!
"I launched WOW Gift Boxes to offer something new and special, and literally make sure that every recipient says "WOW" as they open the gift. It always seems to happen (really)"
"But more importantly, as a way to do social good. During our "Summer of Giving" we are donating 1 can of food to local food banks for every single gift box we sell – regardless if we are making profit or not; that does not matter."
"Our mission is our mission I am 21 yr old entrepreneur focused on positive change – it means so much that you are even reading this from me."
They also Donate for every 10 Boxes they sell to charity!
Visit their site HERE! I found it very inspirational!
They are offering a Special Coupon Code for our fans to use for 15% off a purchase:THANKS15
This is the perfect time to send a Graduation and Father's Day gift coming up soon.
GIVEAWAY:
Must be 18 yrs of age or older to Enter
Continental US only
Enter on the Rafflecopter Below
GOOD LUCK ALL!